Review of the Voodoo Tactical Premium Deluxe Shooter's Mat
Last year, I took an Intermediate Tactical Rifle class with my AR-15.  The majority of that class was spent shooting prone.  My local outdoor range also has several options for shooting prone, and I also plan on taking other classes.  Prior to the previously mentioned class, I hadn't really thought about shooting prone.  So when I showed up to class, many of the other students had nice mats to lay on when they shot.  Given that I plan on taking many more classes and shooting prone at my local range, I thought I should look into purchasing a mat.
Like most purchases I make, I did a little research, and discovered that VooDoo Tactical makes a shooter's mat which doubles as a carrying case .  This option made a lot of sense to me because had thought that one of the down sides to having a mat was having one more thing to carry.  Rifle bag, range bag, ammo can…and now a mat.  A combination rifle case and shooter's mat certainly sounded more efficient to me, so I placed an order for the Voodoo Tactical Premium Deluxe Shooter's Mat
: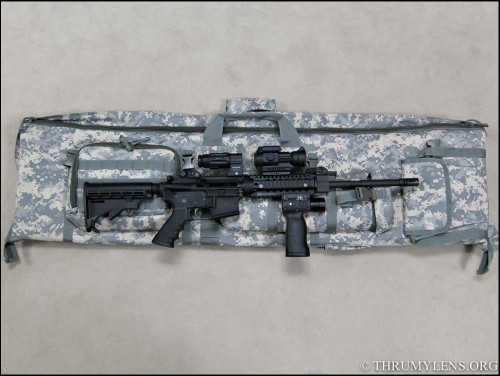 While I normally choose black for bags and cases like this, I went with the "ACU Digital Camo" color for this item.  A typical complaint I read about with mat owners is how hot they can get in the sun.  Based on this, I reasoned a lighter color would be a better choice than a darker one.  As you can see in the above photo, this case is quite large – it dwarfs my M&P 15 with a 16″ barrel.  It's very well constructed, and has several compartments which can be used for magazines, ammunition, or other items.  It also has self-contained shoulder straps for carrying the whole set up on your back like a backpack.
Just unzip a couple of zippers, and the rifle case/drag bag expands to a more than satisfactory shooter's mat: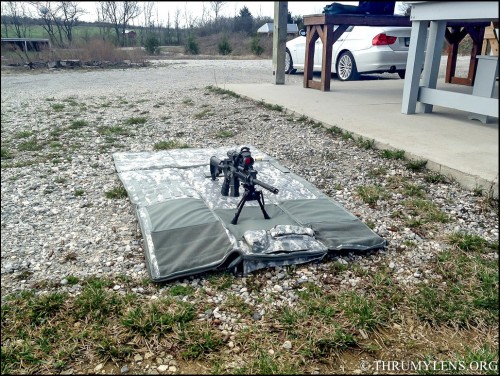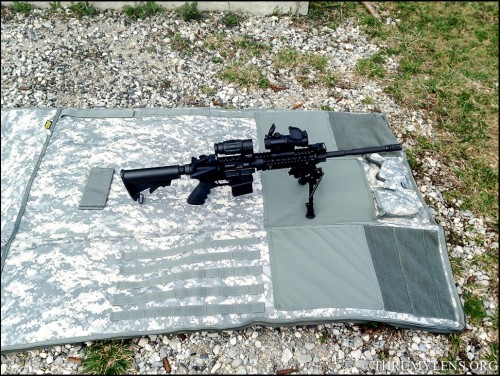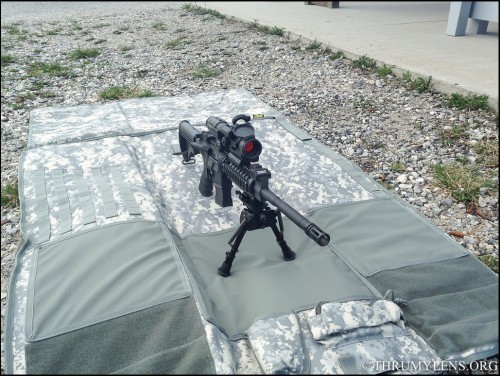 I was pretty impressed at how comfortable the mat was to lay on – as you can see I purposely put it down over some gravel.  It's thick, well-padded construction made a big difference.  If you get the interior or exterior dirty, it would be pretty easy to wipe or even hose down.
Of course, all that size and bulk creates weight – this sucker is pretty heavy.  You definitely won't want to use this as your primary rifle case.  If you have a decent walk from your vehicle to your chosen shooting position, you'll likely want to break out the cleverly tucked away shoulder straps on the case which allows the case to be carried on the back.  Or you can simply drag it (it is considered a drag bag) if you so choose.  Even though it's big and a bit heavy, it does allow you to consolidate two potential items you'd be carrying into one – instead of a rifle back and and separate mat, you just have this to one item to schlep. 

   So I consider it a good tradeoff.
If you're looking for a good shooter's mat, I highly recommend giving the Voodoo Tactical Premium Deluxe Shooter's Mat a look.  It does come with a rather "premium deluxe" price tag at nearly $200.00 retail.  But you can save a few bucks by buying it from Amazon:
Voodoo Tactical 15-9334 Shooting Mat and Rifle Drag Bag on Amazon.com