A Review of the Chris Reeve Small Sebenza Stars & Stripes
As I've mentioned in some of my previous entries about knives, I've always had a deep appreciation of the Chris Reeve Sebenza.  I first became aware of them thanks to fellow Rolex watch collector, and photographer extraordinaire "Jocke."  Jocke has posted several photos within the online watch community of his Rolex watches with his Chris Reeve Sevenza knives – I think he has two or three Sebenzas.  I remember looking into them, and even ten years ago when I first saw them, Sebenzas ran over $300.00.  The cost was prohibitive, so I passed….but the attraction was definitely there.
In recent months, I've been adding some knives to my collection, in search of some nice EDC choices.  I've come close to pulling the trigger on a Sebenza several times – I've seen so many photos and read so much that's been written, I was quite curious to see if the knife lived up to the hype.  So a pre-owned model came up on a knife sales forum recently, and I decided to test the waters: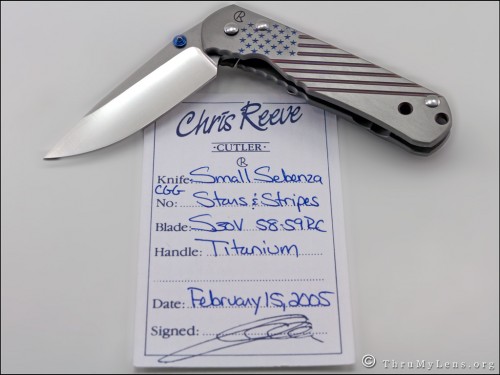 As you can see on the Chris Reeve signed certificate, this particular small Sebenza is a model with handes which have been embellished with a graphic representation of the American flag and is called "Stars & Stripes."  It's an exceedingly rare model.  Sebenzas large and small come in three types – plain handles, wood inlay, and graphic enhanced models like the above.  Wood inlays or graphic enhancements adds to the cost of the already expensive knife, so there are fewer of them in the marketplace.
Chris Reeve knives are often placed in a unique category which falls somewhere between "production knife" and "custom knife" – they're produced in higher numbers and with more hands involved than a traditional custom knife, but neither are they "once size fits all" assembly line products either.  Chris Reeve has the distinction of essentially inventing the titanium frame lock knife back in 1990 – Reeve calls it the "Reeve Integral Lock©."  Like most Sebenzas since about 2001, this model has a blade constructed from CPM S30V blade steel.  CPM S30V is another Reeve innovation, developed in conjunction with Dick Barber of Crucible Materials Corporation.   It's a powder-made, wear and corrosion resistant stainless steel which for many years was considered among the most premium of "super steels" from which knives blades could be constructed.  The blade on this small Sebenza has a polished finish I find very appealing, which goes well with the polished titanium front handle.  As you can see in the next photo, the removable pocket clip is made of the same material and finish as the handle to which it is mounted, giving it the appearance of being a single, integrated feature: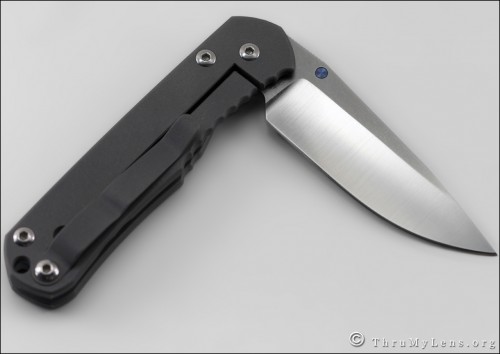 With a blade length of 2.94 inches, and a weight of just 3 oz., the Sebenza has long been a favorite choice for "EDC" (every day carry).  It's open, flow-through design, combined with it's simple design philosophy (just three strategically placed screws are all that needs to be removed to disassemble the knife) makes it a knife which is a joy to maintain.  Of course, such a simply design has also spawned a plethora of look-alike models from nearly every major knife manufacturer.  Readers of ThruMyLens may recall that late last year I purchased a knife based on the Sebenza called the Bradley Alias II (made for Bradley Cutlery by Benchmade).   The Alias II has become a favorite knife in my collection, and is the knife I tend to use most frequently during the week.  I recorded a video segment comparing my new-to-me Chris Reeve Sebenza to the Bradley Alias II:
I'm still not entirely certain if I'll keep the Sebenza for the reasons I talk about in the video.  The great thing is, Sebenzas hold their value extremely well, and can be sold quickly on the secondary market with little to no loss of investment.  Until I make my decision, here's a photo I'll dedicate to my friend "Jocke" – the guy who got me hooked on the Sebenza to begin with: